Immediate Emotions and Reliving a Bittersweet Day
This post-YISP feeling is hard to describe. It's almost as if someone suddenly stripped me of all my emotions – those I've strove so hard to keep aligned and separate – and placed them in a merciless blender. This feeling looks like a heavily mixed, but equally distributed, pulp of happiness and sadness. It smells like a delivered pizza at 11PM, when all you've eaten before then were words of encouragement used by your fellow peers - working through dinner on your Marshall Briefs. This feeling feels like the piercing Bay Area chill that surprises non-California natives, who are more used to warm and humid summer nights. The taste of this feeling is unfathomable – a bittersweet delicacy overall. The fine lines between bliss and melancholy are blurred. I cannot tell one from the other anymore, and it's only been a couple of days since I've left Yale Ivy Scholars.
Eventually, it hits you.
Some felt it the minute they stepped foot into the airport, while others felt it after their parents peeled away from a welcome-home embrace. I know this because, when all of us turn on our Facebook accounts back home, we immediately head straight to the group we made to stay in touch. By now, most of us have settled back to our daily lives, be it Singapore, Texas, or Canada. The Facebook group makes the distance between all of us less immense than it really is, and the thought of never seeing each other again, unthinkable.
This paradoxical feeling came to me even before I struggled down two flights of stairs with my luggage to sign out under the Silliman College main archway. It first visited the moment I woke up from my minima, but fulfilling sleep, on our suite's common room couch. I can still remember that moment very clearly.
It was about 9AM when I woke up - the latest time since my fifteen days at Yale. Our second-floor suite – the I building at Silliman – already felt different since Claudia Shin left the night before, just after graduation dinner. I was the first to wake up again, but I was less enthusiastic about greeting this new day. I knew the inevitable departure lay ahead, and for once, I took my sweet time to get ready, letting the natural flow of life take me to where I needed to be. One by one, the remaining five residents of this suite would eventually grab all they've brought with them, check out, and head home. I started to miss them even as two familiar, sleepy faces – those of Jean Wang and Isabel Scher – groggily walked past me to brush their teeth. Through an outsider's eyes, nothing was too out of the ordinary, but we all knew that, internally, things would never be the same again. For old times' sake, the three of us decided to head off to Blue State Coffee together for breakfast. The two Katherines – one from England and the other from California – were still deep in sleep.
At Blue State Coffee, the three of us ran into more familiar faces. Despite the duration of time all of us knew one another individually, we sat together as if we've been friends since way back when. This was the usual feeling one immediately felt with their closest mates at Ivy Scholars, but after fifteen days of mutual hard work, nobody had much reason to be shy anymore. Still, I exchanged small talk among them. I was a bit lost for words, hungry, and desiring more to absorb the moment before me than interrupt it with my own words, in fear of spoiling it all. This scene – a select few of Ivy Scholars huddled over coffee, tea, and pancakes at Blue State Coffee – was too fragile of a picture.
Isabel Scher [left] and Mr. Drew Ruben [right] - the YISP Dean of Students and Founder of Blue State Coffee - wait for their breakfast orders.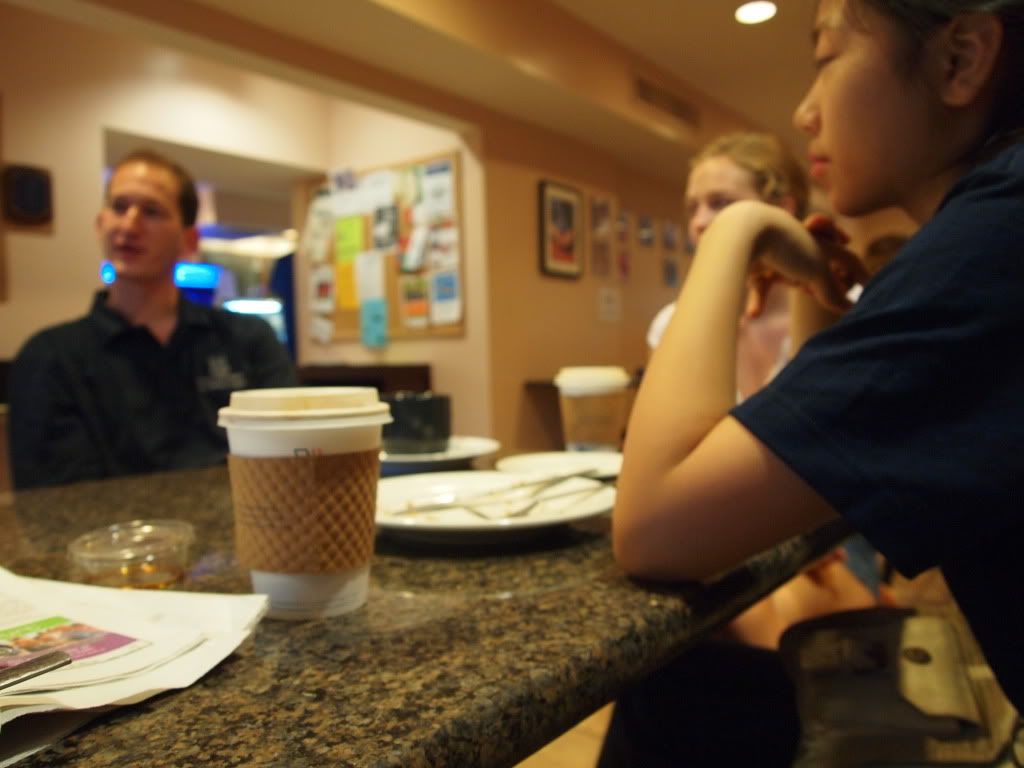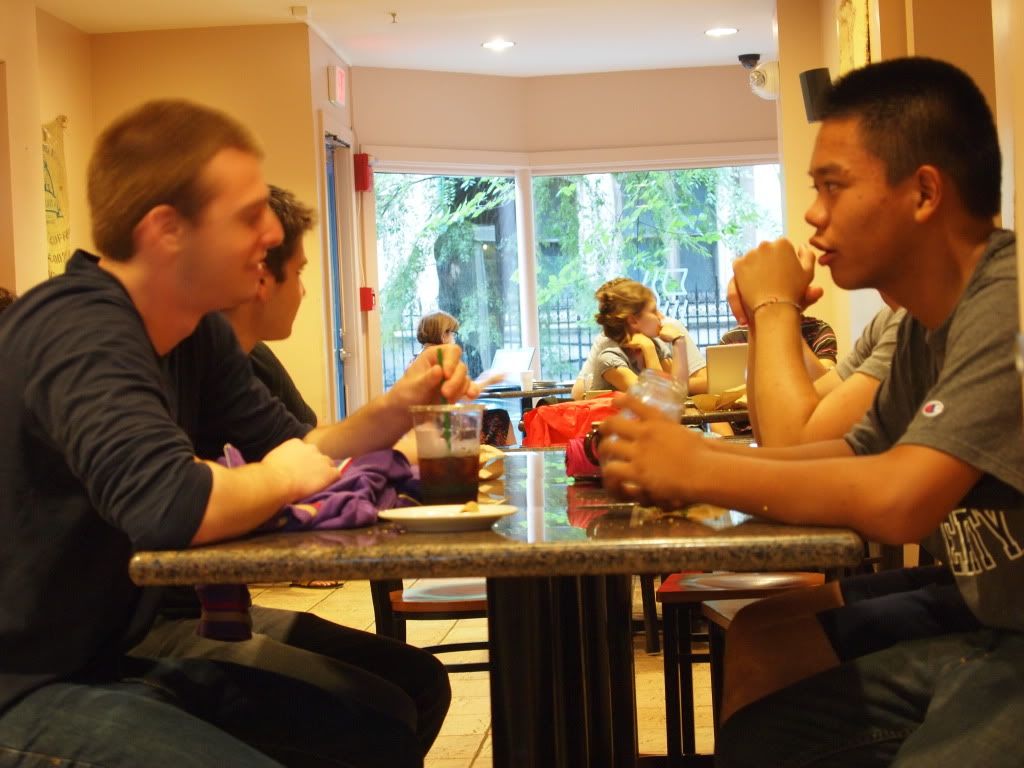 The table next to us - more YISP students, moments from returning home.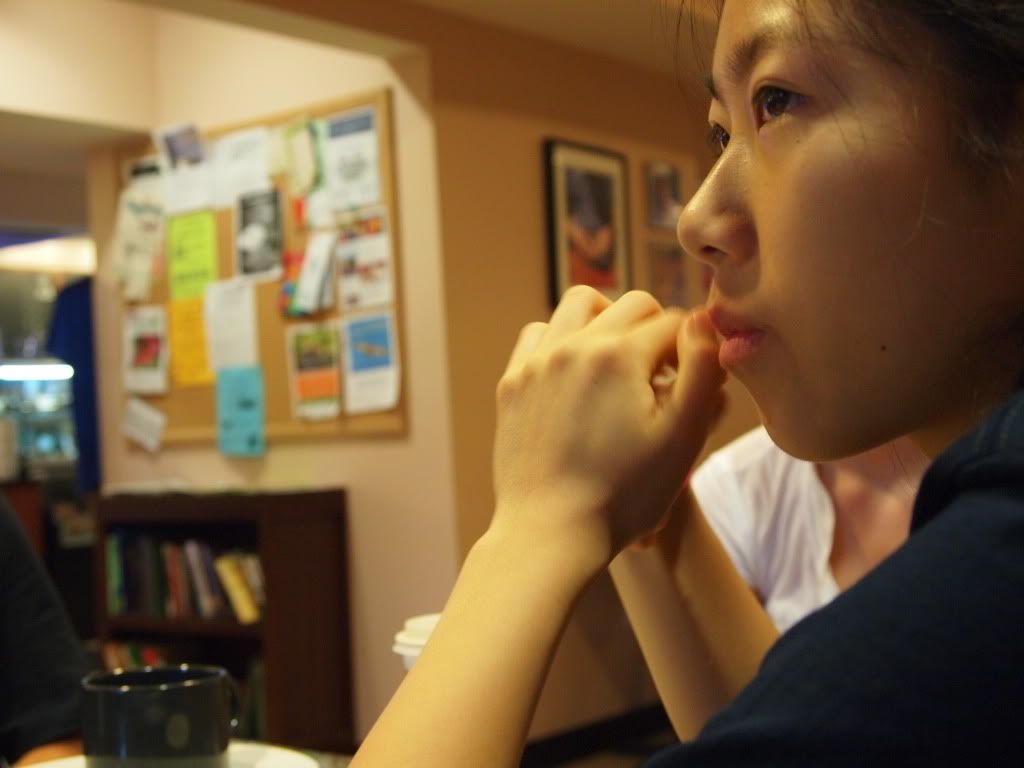 Jean Wang.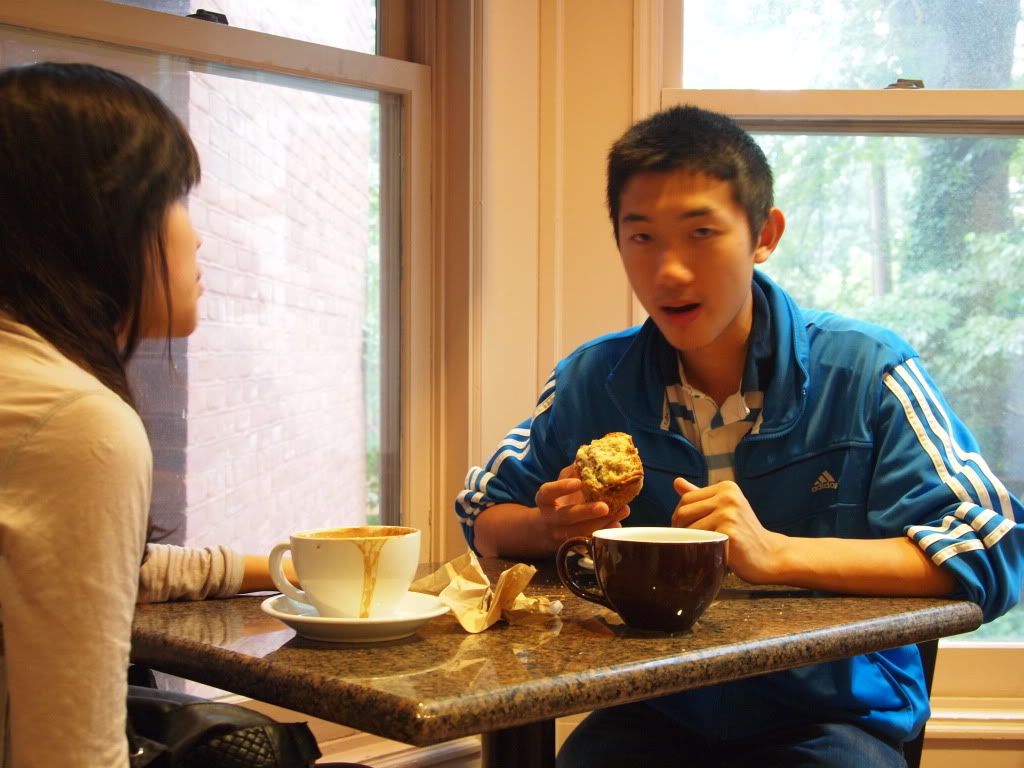 Sunny Huang [left] and Jeffrey Hu [right] enjoying Blue State coffee and pastries.
The look on everyone's face, I realized, seemed unnatural. I was more used to seeing fast-moving jaws and alert eyes, with the typical topics among them ranging from their Marshall Briefs to already-established inside jokes. At Blue State Coffee that morning though, the amount of hard work and the lack of sleep from several nights before, finally caught up with all of them. Yet, despite this being our final morning together as Ivy Scholars, everyone had some form of a slight smile on their lips. If not as a visible curve from cheek to cheek, it was through their solemn words, deeply coated by a tone of bliss.
There were 72 of us in total. I did not get to meet everyone at the same level of familiarity in the end. A more accomplished, dare I say, "Grand Strategist", would have certainly been able to do this alongside all the work that was expected of us, but I clearly still have more to learn. The fifteen days I spent at Yale felt like a dream. It was such a small fraction of our individual summers, and yet, it took center stage for most of us. I can't speak for my 71 other brilliant and unbelievably inspiring peers, but these past fifteen days have been the greatest summer experience to boot.
After about an hour's worth of sipping mochas and munching banana pancakes, the good-byes began – first, only one said it, then, it seemed like everyone was leaving all at once. Isabel Scher was the first from our suite. Her older brother came by to pick her up. After several hugs, a photo, and more good-byes, we all exchanged one final smile with one another as we watched Isabel get into her brother's car. Our suite family now dwindled from six to four.
Once Isabel left, the rest of us – minus British Katherine – were almost set to leave. By then, no one wanted to return to our depressing dorms. We grabbed all our belongings and placed them along the walls of the archway. In addition to waiting for our departure times and rides, we waited for those fellow scholars that were due to leave before us. Those who were scheduled to leave the Yale campus much later – some due tomorrow – also gathered at the archway with us. Nobody will admit it, but internally, we knew we'd never see some of these people every again. It's a sad but honest reality. One that I couldn't really keep inside completely as my eyes became misty.
- - - - -
Currently, I am sitting in the Peet's Coffee in Pinole. (This coffee addiction has unfortunately taken over – thank you, Blue State Coffee!) Returning to the Bay Area, I feel so alive (and that's not only the caffeine talking). I can't really put it into words that would adequately satisfy how I'm feeling at the present moment. I feel like I'm still hovering above ground. I'm excited to face challenges; I'm looking forward to the pile of AP assignments ahead (they're due in a little less than two weeks). I know this sounds crazy and I doubt I can keep this momentum, at this high level of drive for long, up but honestly, life has never felt this good.
I'm looking forward to my senior year – looking forward to making change now and not only after I graduate from high school. These past fifteen days as a Yale Ivy Scholar was like an internal surgical procedure. On the outside, I look the same, but on the inside, I feel like a completely different person – a better person. I'm still an imperfect, stubborn, and overly ambitious student, but I'm looking at life now, less like a rat race, and more like a brilliant chase with welcoming detours. I do fear that this high will eventually fade, but something inside me tells me it will only erode from me slightly.
If one more week of YISP was offered to us but also required another Marshall Brief to be completed in the end, I'd accept it in a heartbeat. A very good friend – Yvonne Hsiao – and I share this special inside joke we call, "Operation: Employment". We remind each other of this throughout our stressed Marshall Brief meetings and sometimes to have a good laugh. Pretty much, we jokingly set the possibility of returning to YISP to be instructors as our ultimate reason to always work hard and never give up. Granted, this was not our main reason to do our very best, but sharing this silly goal of all goals between the two of us just elevated the love we had towards, and I quote Yvonne for this: "the best academic decision I've made in my life".
[From left to right] Dyana So, Isabel Scher, Katherine Yu, Jean Wang. These girls were like sisters; we shared the same suite together. [Missing from this photograph] Claudia Shin and Katherine Spooner.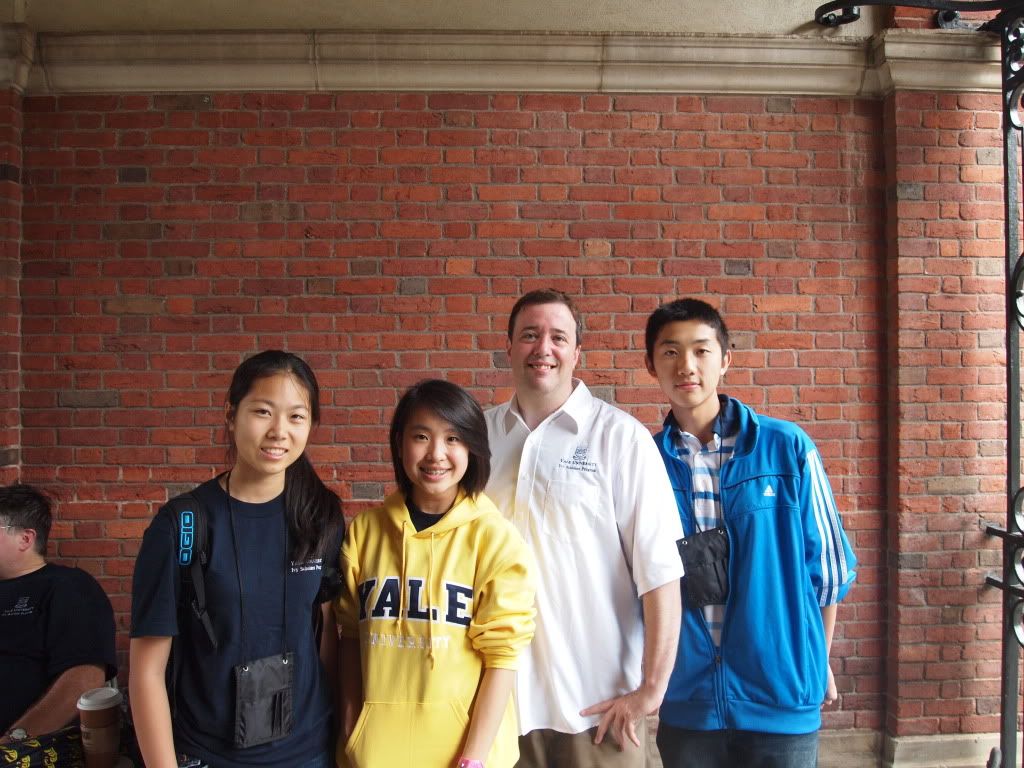 [From left to right] Jean Wang, Dyana So, Dean Coburn-Palo, Jeffrey Hu.
[From left to right] Matt Lee, Dyana So, Jeffrey Hu, Ahmed Hameed, Sunny Huang, and D.K. Guo.
Yohanna Pepa: you are such an inspiration. You have no idea how much prouder I feel being a Spartan knowing all that you've already achieved. It was great seeing you as one of the YISP student instructor.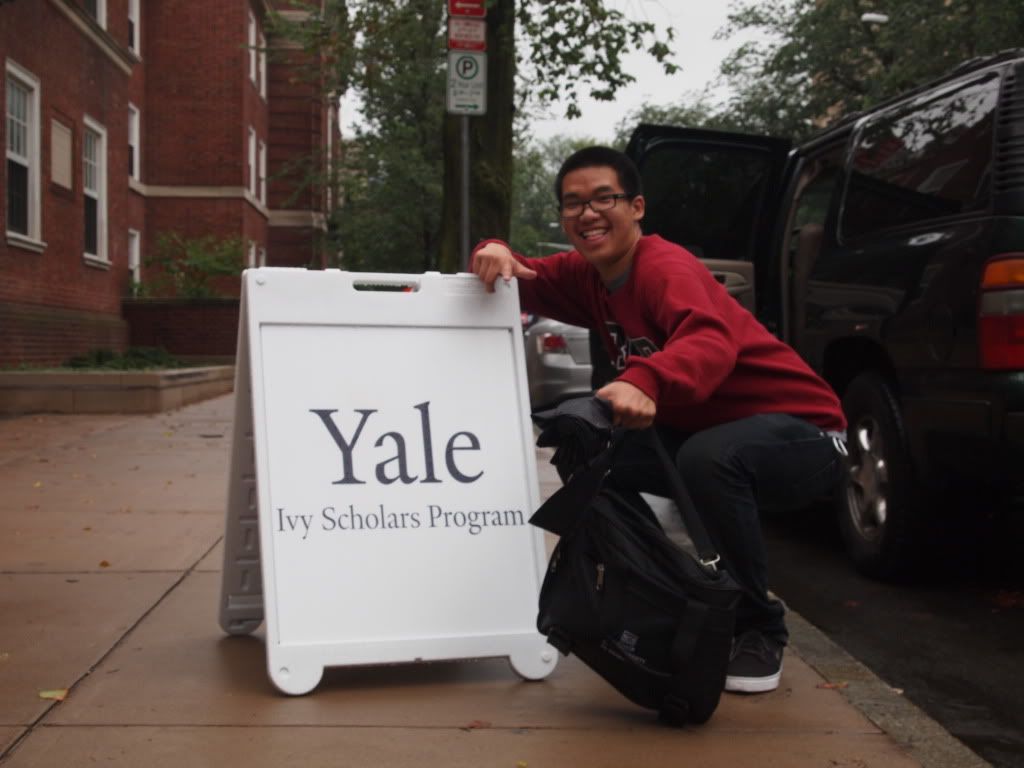 Appropriately, the last photo I took at Yale. This here is Matt Lee.
Part I
of a Series of Reflections on the YISP
by Dyana W. T. So