A blue Catherine Regehr for Neiman Marcus dress has been sitting in the back of my closest for a while. I've been waiting for the perfect occasion to wear such an elegant thing but have yet to find the time until tonight.
It was Friday at last. I couldn't wait to get home and prepare for the Yale dinner. The entire week that followed had been quick but tiring. Everyday was either studying for an AP test or the day of an AP test. Now, with three of the four tests under my belt, I was ready to relax and enjoy an extravagant evening at the Prospects Restaurant in San Francisco.
I spent little time mingling on the BART ride to our destination because I was busy collecting my thoughts for the speech I was to make that evening at the dinner. Hunched over a little yellow notepad, I outlined the preliminary answers I had to address the question: "What does the Yale Ivy Scholars Program Mean to You?" So many answers would shout over one another in my mind as I thought over the question extensively that I also asked Tom and Matt what they thought so as to both quiet my detracting thoughts and hear what they had to say. I discovered that even though we share the same enthusiasm for the Grand Strategy class that awaits us this summer, the three of us also had a different but equally admirable take on what this program meant for all of us.
Getting off Embarcadero Station with our large, well-dressed party gave me nostalgia. I saw One Market restaurant up ahead and turning the corner just before the cross walk that led to it, was a symbolic thing for me. That was the restaurant I attended last year as a Cornellian. Now, as a Yalie, I was literally turning the page to another exciting, unwritten chapter of my life and heading down another path of academic rigor and opportunities.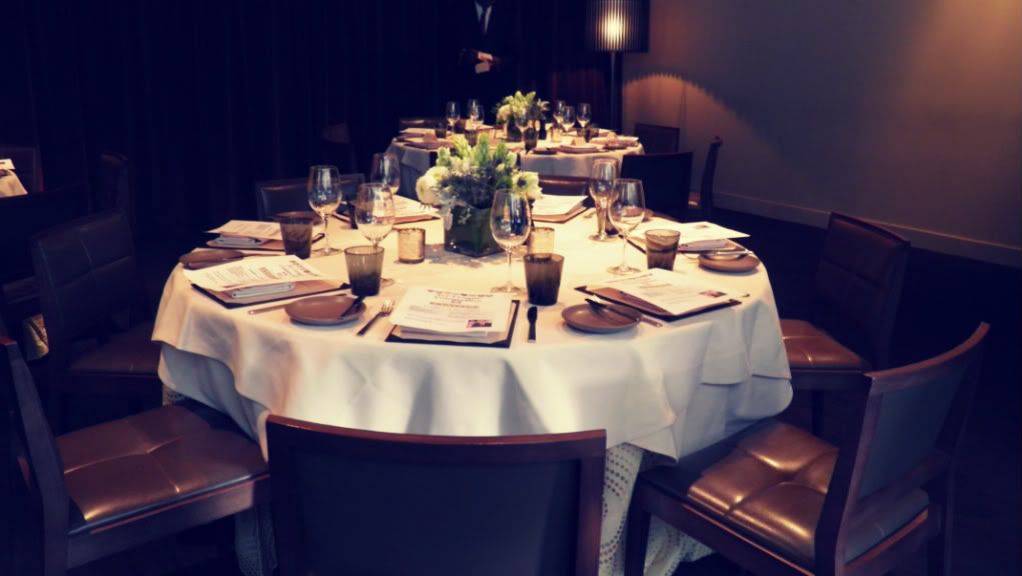 The room Prospects set out for our party was perfect. Large windows stood opposite of the three round tables that waited before us. A woman offered to take our coats and hang them in another room as our main server of the evening asked us for our beverage preferences. I was asked if I wanted champagne or chardonnay twice, but I stuck with coke for legal reasons.
As the remaining guests made their way to Prospects, the majority of us stood around to continue mingling. The guests Mr. Ramsey and Ms. Kronenberg invited for dinner were a perfect bunch. Ms. Kaplan, Ms. Kahn, and Ms. Kim continue to be supportive and encouraging figures for not just me, but also for all the other diamond-in-the-rough students from our district. They never grow tired of telling students that the sky's limitless, and I admire their hopeful outlook for the students in our district. I was also glad to have Austin Long join us for dinner; many students from our high school look up to him for his accomplishments and leadership and they couldn't be more proud of his acceptance into Yale. Having Mr. Long there was great as well because it gave my mother, who was more comfortable speaking in Cantonese, a chance to engage in more conversation that evening. Mrs. Pepa, some of the interviewers from the panel responsible for choosing us Yalies for the ILC, some of the sponsors, and some local Yale alums were also invited to perfect our wonderful dining experience.
The three tables were divided accordingly to Tom, Matt, and I. At my table sat Ms. Kronenberg, Mr. Lindsay, Mr. Elis, Ms. Kim, my mother, Alexis, and Mrs. Pepa. They were great to dine with and a large portion of why I found this dinner to be so fun and unforgettable was because of the conversations I shared with them. Mr. Lindsay described to us a perfect "Yale moment" he once experienced back when he was a student there. The snow had just finished falling, a full moon was out on a clear night, and the world around him was absolutely quiet and still when he chanced to step out one night to witness it. I can still see that breathtaking image in my mind and hope that, even though I won't see snow in the summer, I'll also get to have a "Yale moment" of my own as well.
Alexis was the local alumni at our table. She graduated from Yale as an English major in 2006 and is now working in the Bay Area for Google. A large part to the casualness and fun in our conversations can be attributed to her. From her experiences at Yale to her moments from her high school days back in her small town, Alexis assures me that after high school, it can only get better and better, especially if you're going to college.
Mr. Elis and Ms. Kim were the two I spoke the most with. Mr. Elis and I remembered each other from the interviews but never had the chance to get better acquainted since then. Ms. Kim, I knew, was a private counselor, and she was the one to talk to if you were in need of any advice or answers regarding your college search. The three of us suddenly found ourselves in a really engaging conversation when I asked Mr. Elis about his job as a publisher.
Mr. Elis briefly mentioned he was a publisher when he commented on Alexis's English degree and that instantly stood out to me. As someone who loves her English classes year after year and have always found writing to be both a fun and powerful skill to possess, I immediately became intrigued with what Mr. Elis's and Alexis's English degrees have gotten them. For Mr. Elis, it was a career as a publisher. I was so curious to learn more about that profession that I just had to ask. And since that question left my mouth, the conversations as the table just kicked off naturally.
Although I love English, I cannot say with confidence that that was the direction I plan to pursue in life. The fast approach of junior year's end is a transitioning point for me. One foot is stepping into the application process for college while the other is still firmly grounded on high school and completing all my requirements to graduate. When one is in an awkward position such as this, it is easy to find yourself daydreaming about the future in order to ignore all the hard work needed to get there - at least for a moment.
Therefore, whenever I can get someone to share with me details of their profession, I always perk up with interest. This is especially true when those that are sharing are just as happy to share as they are are about the work they they do. For Mr. Elis, the self-taught publisher, that was the case. The desire for Mr. Elis to print books had its origins back in his Berkeley high school days when he was an active participant of his school's daily newspaper.The love that developed there never left him and was finally carried out after college when he bought his very own printing press. After many years of being self-taught and not being afraid to ask questions, Mr. Elis's business grew and to this day, over a 1000 book titles were printed under him. The life of a publisher is an exciting one. Not only do you take part in creating something as classic and treasured as a good 'ol book, you also get to meet so many authors along the way. At the end of his story, Mr. Elis does not hesitate to assure me that there is no need to have a fear of asking questions especially to avoid embarrassment and that, as long as you work hard for what you love, success will find you.
Ms. Kim was as intrigued by Mr. Elis as I was. She contributed to this conversation often and every time, it was of great insight and valuable information. With Ms. Kim, I found a lot of common ground. Both of us were immigrants who arrived to the states at the age of 5. We also share a love for learning; the philosophy that the college experience was really what you make of it and not what the school is known for; and the love for Harper Lee's classic,
To Kill a Mockingbird.
The food at Prospects was absolutely delicious. The service was good and everyone seemed to enjoy their meals - so much that when time came to eat ice cream sandwiches (our third dessert treat), some of us (yours truly included)just couldn't eat another another bite! I do have more photos of the food that was being served, but to save my readers from drooling all over their keyboards and damaging their computers, I will only tease them with this chocolate cake I had for dessert.
On the Speech and My Gratitude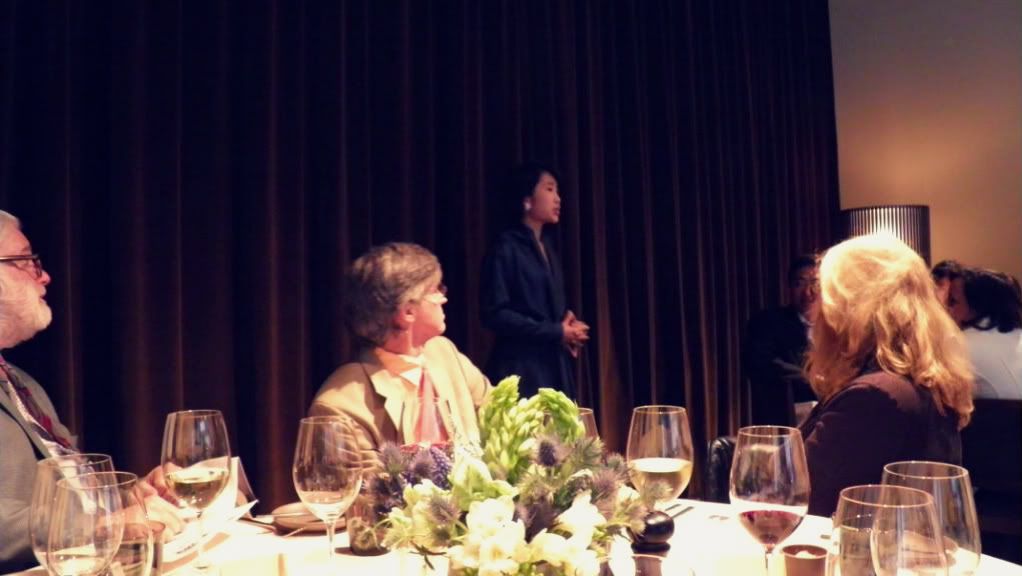 I wanted to set a special place in my post aside to comment on the speech I made at the dinner on Friday night and express my thanks. I am honored to have been chosen to represent the Yalies - to be offered the chance to speak before such an inspirational group. Ms. Kahn noticed that I had been fidgeting with my yellow notepad earlier on the BART train and reassured me that everything will be alright as long as I speak from the heart. This proved to be easier than I thought because this opportunity - to be able to go to Yale and take a college course over the summer on a full-ride scholarship - was an unbelievable miracle that I did feel very strongly for deep in my heart. Therefore, I abandoned my notes all together, took a deep breath, and dived right into my speech. Although I honestly do not know whether it went as well as some speech competitions I've had in the past or that it was really just a ramble of words, everything I said that night, though I cannot remember all of it, were true to my words and in parallels with the emotions I have towards it.
- - - -

Growing up, I've always jokingly told myself: "Pinole is the most random city you could have ever ended up in." I say this because, as a Chinese immigrant coming from a city of 7 million (Hong Kong), I could have easily found myself growing up in common cities like San Francisco with a large Chinese demographic, or a city like Albany where all my cousins went to school at because of their "better education". My little brother and I are the only ones in our family to continue our education in the West Contra Costa County and I see it as destiny.
A couple of years back, had my parents actually offered me a chance to get an education somewhere else, I could have very well said yes in heartbeat because I was not shy at all when it came to changing schools. Now, with so many memories and triumphs made as a student in this district from first grade to, eventually, senior year, I refuse to leave Pinole Valley even if an all-expenses-paid scholarship to the best private high school in the world was given to me.
Pinole is not some random place that I awkwardly found myself growing up in. It is where I was meant to be and I'm glad I understand that now. I didn't grow up with much as a child and I didn't have "Tiger" parents that refused to accept anything short of perfection. The drive I have towards my education, the reason why I refuse to give up, and the firm belief that one should always take advantage of any given opportunity, began with a teacher that saw me stand out among the rest of my peers. Since then, I've always believed there is nothing more important to a child's life than education.
The Ivy League Connection found me when I was called to the library one sophomore day in December. I remain a proud ambassador for the program and I look forward to being a leader for students in my district when I return from Yale this summer. I want them to see that the world has so much more to offer than what most of them see everyday, that even though we have to work so much harder to get up there, a bright future can still be there, waiting.
Ivy League Connections, I thank you once again for this second opportunity to be an ambassador for my school district. I look forward to New Haven, Connecticut and studying Grand Strategy with students all over the world.