Good morning Philadelphia! What a spectacle to behold, brushing aside those curtains and especially those to your single room at the Sheraton University City Hotel.
View from my window.
Because of the slow connection at the Sheraton, it took me a very long time to upload just a couple of photos to both the Media Fire account and on Blogspot. As a result, I shamefully slept at 3 o'clock in the morning despite knowing that I had a very fun-filled day centralized at the famous Princeton University tomorrow.
I absolutely adore the column motifs of this train station.
Here in Philly, a cab is the way to go. (I think in these two days alone we've ridden on at least six taxis).
Waiting for Mr. Ramsey, Ms. Kronenberg, and Mr. Miranda at the station.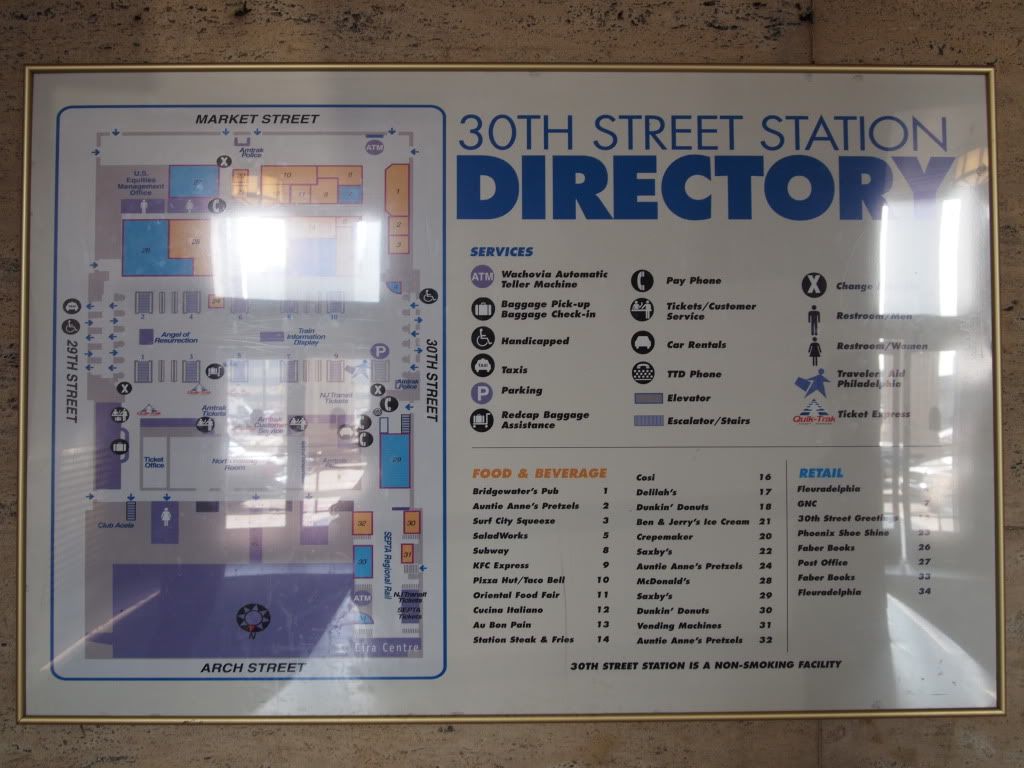 Princeton, here we come!
Something New Everyday

- I absolutely love trains. They're not common like your average buses, not as unclean as your typical subway, and not as compacted as planes. I rode trains before when I was a little girl, tagging along with my family as we traveled from Hong Kong to visit friends and family up in China. However, I have never been on a train in the United States before though I can claim that I've been living here as an American citizen for over ten years. The thrill of the seeing these trains whiz past us at intimidating speed and piercing roars sends your heart beating even as you enter into those trains and have sat down at one of the passenger seats long before. Trains, in addition to cabs for the slightly wealthier individuals around these parts, are the most common way for local students and businessmen and businesswomen to get around - especially if we're talking about constantly making back-and-forth trips from major cities like Philadelphia and New York. Although this was my first time riding on a train the United States, I can honestly see myself doing this quite often in my future, perhaps as a college student in the East Coast or for my future career. However, one thing's for certain, this first-taste of an American train has prompted me to include and continental train ride from West Coast to East Coast on my bucket list.









Platform nine and three-quarters anyone?








Having Someone Who Knows

- If I had to award an MVP award of the day, I'd give it to Mr. Miranda. Not only has he been a phenomenal traveling companion to all of us (talking about world history and sharing opinions with him was probably one of my most favorite part of the entire day), he has also been a much worthy guide to us since he's been quite familiar with the East Coast. It is through his knowledge and focus towards getting all of us to Princeton University this afternoon that we had a really smooth ride to Princeton, New Jersey. Therefore, Mr. Miranda, thank you so much for being such a vital component to our travels in the East Coast, in addition to your very in-dept and intriguing insight on a wide variety of topics.

Suspending Some Pre-Made Opinions

- Among one of the conversations I had with Matt Lee over train rides was an extensive debate regarding the definition of college. "If you had to choose between going to school that resembled an absolute dump but had the best education anywhere or a a school of a very positive social environment but with mediocre academics, which would you choose"? Obviously this entire question was theoretical and could not resist realistically, but since we were trying to kill some time and dive into some fun, theoretical scenarios, I played along. For those who know me, it's very obvious which of the two schools I'd pick. I'd definitely go for the college with the best academics despite its poor social life and/or general environment purely because my personal definition of college is really to get the best education possible and have those great resources available to you so as to make these four years the golden threshold to a sound and successful future (no guarantees of course but my chances are in no doubt heightened). Matt chose the latter because, in his opinion, college should be more about the experience thought he admits academics is important. There is some truth to his opinion and I certainly do not want to go to a run-down dump of a campus for my higher education, but since the question required the choosing of one or the other option, I stand by my original decision. Among the many reasons why Matt and I were polar opposites about this issue, I jest to assume, is probably our very different upbringings. Matt, having had both his parents graduate from U.C. Berkeley is encouraged to seek out a fulfilling college experience that will guarantee him a great time spent. Myself, being the first in my family to go to college and probably the first in my family to attend an American college outside California, wants to seek out a great institution based more on its ability to secure me with a well-rounded and worthy education. If worse comes to worse, I would accept poor social life for the sake of a great education. However, after seeing how gorgeous the Princeton campus was and how frequently the guides spoke of that tight-knit group of friendship among the Princeton students, I started to see why Matt put the social life so high on his wishlist.





Princeton University

- It was such a strange feeling walking past some of the summer college Princeton students hiding underground for the coolness and shade since I realized almost immediately that I could have been one of them instead of going to the Yale program. Back in last year's winter, I had two equally great opportunities before me. It was either the Yale Ivy Scholars Program or Princeton's Journalism Program - both being all expenses paid. In the end, I'm glad I chose Yale's program, but it was just nice to recognize the alternative universe that I could have lived. In regards to the campus tour, we had a very friendly and great tour guide. The campus of Princeton University is absolutely beautiful. I have a sensitivity towards architecture and design so seeing all these historically magnificent brick buildings and intricate designs made the campus tour all the more wonderful. I could picture myself walking through this campus and I took that immediately as a good sign. Princeton was honestly the first college that captivated me slightly on their campus appearance alone - perhaps because I did consider heavily what Matt said earlier about appreciating the social ambiance of a college. The information session had some redundant information but I thought that it was a nice side to the the tour. The tour offered an informal perspective from a rising Princeton junior and the information session was a very direct, more parent-oriented session. My favorite part of the information session was probably hearing more about what admissions officers are looking for in regards to the applications directly from an admissions officer greatly involved with the process. I cannot tell you how relieved I feel after hearing that such a prestigious university as Princeton admitted that, as important as nationwide tests are - such as the ACT and SATs - it is really only one aspect of it. You know they mean this when they further that statement by introducing Princeton's new policy of super-scoring your test scores. In other words, they see all your test scores for, say, your SATs, and among those three times you may have taken it, only accept the highest scores among the three tests, such as your highest math score established your second time around with your highest reading score the first time around. To summarize, my interest in Princeton has certainly risen and I'm happy to say that this fondness was derived not solely from this university's prestige but actually from finding things from the tour and information session that honestly caught my attention. In terms of putting Princeton on my definite list of colleges to apply to though, that has yet to be confirmed. I'm still a bit attached to idea of a small liberal arts college for undergraduate education and a prestigious ivy league for graduate, but opinions certainly can change.













Walking down Nassaur St. for lunch.

This was our location for lunch - Princeton's famous, Hoagie Haven!

This crowd knows these are no simple hoagies.

Eating our hoagies inside Princeton's large and main student center.

Display at the Princeton Student Center.

Our Princeton Campus Tour guides. (We got the cool guy with the tiger socks.)

Only a portion of our large party.

Guess what? President Woodrow Wilson's office as Princeton's president stood right above our heads!

Bruce, our tour guide.

Say hello to the third largest college cathedral in the world. But wait until you see the breathtaking inside...

Beautiful.

Back outside in the hot, hot sun.

These archways are not only the best shade during these hot summer campus tours of Princeton, but also great for choir performances due to its great acoustics.

The foreign languages department. About 24 language classes available here.

These Princeton mascots, the tigers, guard the oldest building on the campus. Back when this school was first founded, the entire university was just this building. During the Battle of Princeton during the Revolutionary War, British soldiers hid in here thinking that the Americans would not destroy this historic landmark

but George Washington blew a cannon through those brick walls anyway.

The Information Session - a very full lecture hall of students and their families.

Heading back to the Trenton Train Station to go back to Philly.

Waiting to head back to the City of Brotherly Love.

Matt Lee.

Dinner with Mr. William Mongan, our Princeton Alum

- The story of how we eventually found Mr. Mongan to be our Princeton representative to our dinner at the very fancy Le Bec-Fin restaurant is quite a remarkable tale. I share with Mr. Miranda a similar frustration with trying to secure some sort of Princeton representative for dinner, and of all places to find one, Mr. Miranda discovers Mr. Mongan by a chance meeting with his younger sister who, after hearing Mr. Miranda speak of the ILC, remarked that she had a brother who graduated from Princeton. And that was that. Mr. Mongan is a character you certainly cannot miss on a first encounter. He is exactly 6 feet 7 inches tall, his legs not really fitting so comfortably under our round table as mine easily could. Mr. Mongan entered Princeton as a great rowing athlete but also due to his fabulous record as a scholar in high school. With acceptance from Dartmouth as well, you can tell Mr. Mongan was a very established learner not only by how eloquently he carried himself throughout the entire dinner. His life and interest as a lawyer with an apt for sports captivated many interests among us, turning this dinner to more than just a learn-more-about Princeton session. Although the encounter did little to change my present mind regarding Princeton- a on-the-border choice - it did greatly inspire me to be more well-read as he was. His English major has definitely showed through both his conversations and knowledge on vast areas of material. Overall, I greatly enjoyed meeting Mr. Mongan - our last-minute stranger-turned-friend - at no better place but the especially classy Le Bec-Fin restaurant. (I am positive that if I ever get invited to such a fancy French restaurant again, I will know how to order from the menu correctly!)